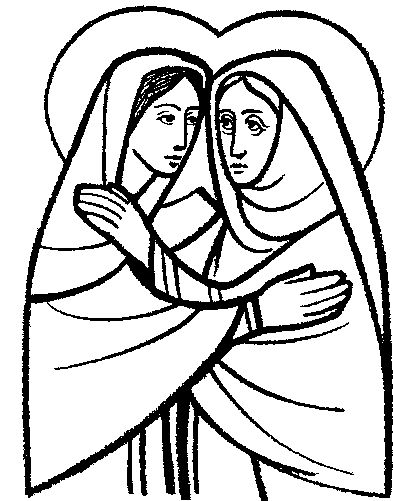 Listening to the Gospel on Sunday I was struck again by the power of the Magnifcat. It bursts in as a response to Elizabeth's friendly and formal greeting. It is as though these words have been bubbling up in Mary and Elizabeth is first person she has seen who can begin to understand what she is going through.
A favourite bugbear of mine are those songs which are predominantly in the first person, 'songs about me and Jesus, which often come from different ecclesial traditions fit uneasily in our liturgy with its ecclesial/communal dimension. I was once asked, 'yes, but what about the Magnificat – is that in the first person' But looking at the text it anything but self-centred. Elizabeth says Blessed is she who believed that the promise made her by the Lord would be fulfilled. Mary's response is two-fold: it's not about Mary it is about God — she is blessed for what God has done for her; he is holy, and she has come to realise that the fulfilment of God's promise affects everyone — the world will be turned upside down by the child in her womb. We sometimes forget that Mary sings her song before Christ is born — she is a prophet.
So why should every catechumen know this prayer? Well, it is a core liturgical text. Sung by the Church every day as part of Evening Prayer. It occurs a number of times in the Lectionary either as part of the Gospel, as yesterday on the Assumption, or in place of the psalm. When the liturgy refers to a song of thanksgiving such as following communion or at the end of a penitential service the Magnificat is often given as an example. So part of the reason a catechumen should know it is so that they can participate in the prayer life of the Church. There is both a richness and a radicalism in the text which has sustain the Church's prayer across the centuries.
Furthermore I think it offers a model of prayer:
that the fundamental attitude or starting point should praise and thanksgiving — for what God has done for us
that our petitions should remember the lowly and hungry — that God has an option for the poor
that our prayer links us with the wider Church across time and space — even to Abraham
that God's promises will be fulfilled.
Some thoughts about putting it into practice
Ideally introduce the text within the context of the Gospel passage
Use the Magnificat in your prayer
Sing it — it's the original Marian hymn. There are plenty of settings — try to use one which sticks closely to the text. If your parish has a regular sung Evening Prayer why not use that version.
Use it as a building block to praying Evening Prayer together possibly in a simplified form.
Make or obtain a prayer card with the text on and give one to each catechumen inviting them to pray it every day.
Have an Advent reflection using the Magnificat perhaps focussing on Mary'. What does the text tell us about Mary?
Magnificat is the first word of the Latin text and is used a shorthand way of referring to the text in any language. It can be translated as proclaims, rejoices, glorifies.
The clip art is from a site run by Missionaries of the Sacred Heart in Peru who provide an image for every Sunday